---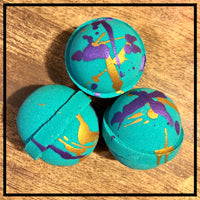 This sweet, tropical bomb has sweet notes of pineapple and coconut plus a touch of butter rum. It will make your mouth water!
We don't skimp on the high quality ingredients.  This one is topped with shimmery Dead Sea salt and contains rich, nutritious kukui nut oil as well as seaweed extract.  Our bath bombs are a large 5.25 oz plus in size.  
Ingredients: Sodium Bicarbinate, Citric Acid, Cream of Tartar, Kaolin Clay, Coconut Milk Powder, Sodium Laurel Sulfoacetate (mild surfactant, not a sulfate), Kukui Nut Oil, Polysorbate 80, Fragrance, Seaweed Extract, raw coconut oil, Blue1, Yellow5, Dead Sea salt, mica.