---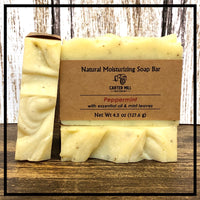 With a calming, soothing, fresh scent, this one is made with real peppermint essential oil. Peppermint oil has the highest menthol content of any of the mint oils, which gives it a mild cooling effect on the skin.  Includes a dash of real mint leaves.
Rich and moisturizing, our vegan non-milk based soaps are always made with the highest quality ingredients to help your skin be it's healthiest.  This soap is made with Distilled Water, Extra Virgin Olive Oil, Coconut Oil, Rice Bran Oil, Shea Butter, Castor Oil, Sodium Hydroxide (used in processing - none is left in the finished soap), Peppermint Essential Oil, and Mint Leaves.
This one is great in our Whipped Lotion with Shea Butter!